---
[Last updated: 28 November 2015]
---
Johan Friederich Stembel (Grandfather)
Frederick Stembel (Father)
Henry Stembel
---
HENRY STEMBEL (1776 - 1829)
Henry was born June 22, 1776, in the Stembel home on lot #9, Middletown, Maryland(1). His baptism on August 14 of the same year was sponsored by his uncle (and namesake), Henry Leudert (Leutert), his mother's brother.
Henry's father, Frederick, was an active, ambitious man, and Henry seems to have followed in his footsteps. No doubt Henry took an active interest in his father's activities as he was growing up. As his father's oldest son, it's obvious that Frederick groomed his son to be curious, adventurous, and fearless. In a letter Henry wrote to James Monroe (soon to be President but then Secretary of War) in 1815, Henry refers to his participation in the Battle of Fallen Timbers under General "Mad" Anthony Wayne in 1794. Henry was just 18 at the time of that battle.(2)
On March 9, 1798, at the age of 21, Henry married 27 year-old Christiana Harmon. Christiana was most likely born in Germany (though one unconfirmed source says Franklin County, Pennsylvania) and was raised in a German-speaking household. According to family lore, she never learned to speak English well.(3)
Henry was a hatter by trade,(4) but was a restless man who was always looking for new challenges. He was a deputy sheriff when he was 24,(5) and was appointed Middletown's first Postmaster two years later.(6) In 1809, he was a manager of one of the construction crews building the turnpike from Middletown to Boonsboro, Maryland, 10 miles to the northwest.(7) He also owned a mill with his brother John.(8) In 1810, Henry was appointed a Justice of the Peace.(9) Two years later, when the War of 1812 broke out, Henry joined the Maryland Militia as an officer and rose in rank to Lieutenant Colonel. (10) After the war he wrote to the Secretary of War asking for an appointment as an officer in the U. S. Army. In 1817 he ran for a seat in the Maryland General Assembly, but lost by just a few votes.(11)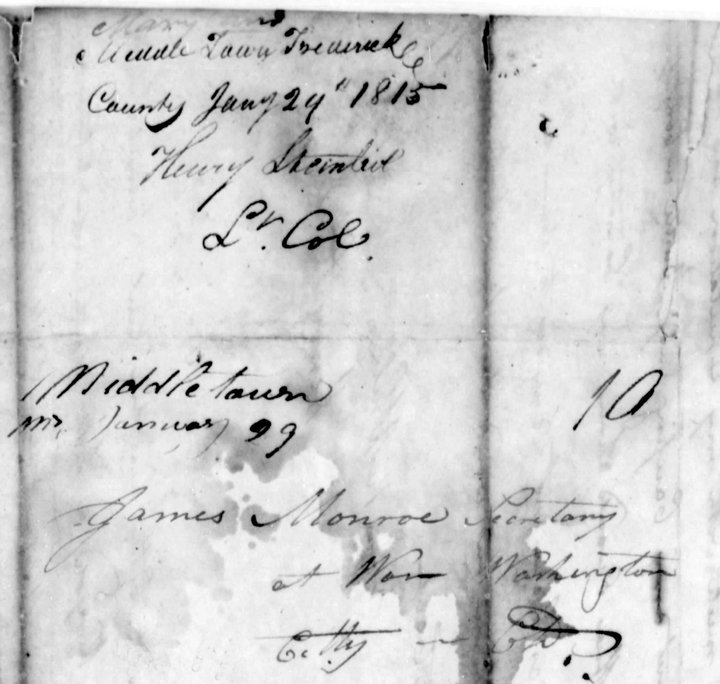 Front of Henry Stembel's letter to "James Monroe, Secretary at War" with Henry's address (Middle Town, Frederick County). (The letter was found online)
Soon after the failed election Henry moved his family(12) to Georgetown, in the new District of Columbia (at the time, Georgetown and Washington were separate towns). Once there, it appears that Henry opened a store in Georgetown, for an 1821 advertisement for farm implements in a Maryland newspaper provided a list of merchants where their implements could be ordered and on the list was: "at Col. H. Stemble's, Georgetown, DC." His was the only store in the District of Columbia on the list. However, Henry may have originally moved to the District with the thought of getting a position in the fledgling federal government. We know from the above letter that he was seeking a position in the military. Might it be significant that he used his former military rank in the name for his establishment in Georgetown?
After living in the District for a few years, Henry decided to move to Dayton, Ohio, then a small town of about 2,000 residents. He and his family moved there in 1823. He was the first of Frederick Stembel's offspring to move to Ohio, but within a few years many more would follow.
According to the 1810 census, Henry - living in Maryland where slavery was allowed - owned three slaves. In the 1820 census - living in the District of Columbia where slavery was also allowed - we find that Henry had two slaves. In January 1823, just before moving to Ohio where slavery was not legal and any slaves brought into the state would be free, Henry sold his two slaves, Roger and Harriott. This was not unexpected, but he sold them to his daughter, Caroline, which was unexpected. Caroline was just 15 years old at the time, she presumably had no income or savings, and was about to move to Ohio with her parents where the two slaves would be set free. So why did Henry sell his slaves to his daughter? I suspect he was trying to avoid paying a tax of some sort, but there is a family tradition that Frederick's children were strongly opposed to slavery and that some even took their slaves with them to Ohio in order to set them free and have a life for themselves. It would be uplifting, even romantic, to think that as Henry was about to sell his two slaves on the local slave market, 15 year old Caroline objected because she had grown up with them (it's likely Harriott - who was between the ages of 14 and 25 in 1820 - was her childhood friend or helped raise her), and was horrified at the thought that they might be sold to someone who would beat or mistreat them. She may have even solicited other family members to loan her the $650 sale price for the two, bought them, and took them with her to Ohio where they would be free, with the expectation that Roger and Harriott would help them move and work for them in Dayton until they could find employment of their own. As unlikely as this seems, we do know the Stembels at this time were reasonably wealthy and could afford it. Would her grandfather, Frederick, have been able to say no to a weeping 15 year old granddaughter?
Henry and Christiana had three known children who lived to adulthood. Nearly ten years separated the first and second child, so it seems likely that other children were conceived during this period, but I have found no records of any other births.
In the summer of 1829 Henry traveled back to Middletown to visit his parents and other relatives as he did occasionally. While on this visit he fell ill and died there suddenly on September 2, 1829(13). He was just 53 years old. He was buried in Middletown's Lutheran Church cemetery, but his tombstone can no longer be found.
Christiana lived 29 more years. In the 1850 census she was living with her son, Roger, and his family in Dayton. She was listed in the census under her maiden name, Harmon. Also living with them was a 20 year-old German girl, Catherine Harmon, probably a relative of Christiana's family in Germany. She may have desired a German-speaking companion in the household.
Christiana died in 1858 and is buried in Dayton's Woodland Cemetery.
---
Henry and Christiana's three known children (Elizabeth, Caroline, and Roger):
A. ELIZABETH Stembel Protzman. Elizabeth was born on December 15, 1798, in Middletown, Maryland. Sometime around her 18th birthday her family moved to Georgetown in the District of Columbia. There she married Henry Protzman, a native of Hagerstown, Maryland, in 1822.(14) I don't know if Henry came to Georgetown with the Stembels, or whether Elizabeth met him there. He was a widower who brought three children by his first wife to the marriage.
The name Protzman is often recorded as Protsman. Early members of the family had their name recorded in the censuses with the "Z" but the tombstones I encountered in the Woodland Cemetery in Dayton all had the name spelled with an "S".
Sometime after 1826, and the birth of their second child, Elizabeth and Henry followed her family to Dayton, Ohio.
Henry and Elizabeth remained in Dayton where they had five more children. I haven't found any information indicating what Henry did for a living in Dayton. They lived in town so he wasn't a farmer. Henry died in 1848, at the age of 56. He is buried in Dayton's Woodland Cemetery.
Elizabeth lived for nearly 30 years more. In the 1850 and 1860 censuses she, and some of her sons, owned farms in Harrison Township, just north of Dayton. In the 1860 census Elizabeth's farm was valued at $10,000, one of the more valuable farms in the area. In the 1870 census, her family had moved to Bath Township in Greene County, Ohio, which was just east of Dayton.
Elizabeth died in 1876 and is buried in Dayton's Woodland Cemetery with her husband.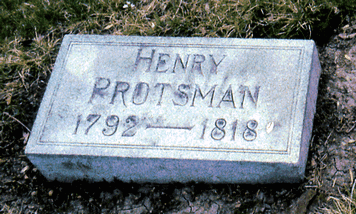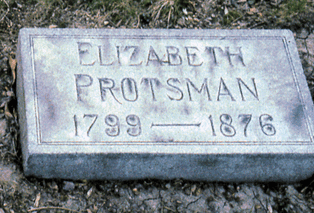 Elizabeth and Henry Protzman's seven children:
1. Caroline Matilda. Caroline was born March 17, 1823. There is some doubt as to where she was born. In the 1870 census, her place of birth was given as Ohio. I tend to believe she was born in Washington, D.C., because that is where her younger brother, John, was born a year later. On November 4, 1845, Caroline married Joseph Harshman.


At the time of the 1850 census Joseph and Caroline were living on a farm northwest of Dayton. Joseph's occupation was recorded as "Miller." Ten years later they were living in Greene County, east of Dayton. Joseph's occupation was recorded as "distiller and miller" and his property and personal estate was valued at nearly $70,000. In the 1870 census, they were still living in Greene County. His occupation was recorded as "manufacturer" and his net worth had increased to $215,000! This made him one of the wealthiest men in the area. Something happened, however, between the 1870 and 1880 censuses. In 1880, Joseph was no longer a wealthy manufacturer, but a farmer in Harrison Township, Montgomery County, Ohio. The most likely explanation was that Joseph was caught in the Panic of 1873, a very deep international recession that was so bad in the U.S. that the New York Stock Exchange had to close for ten days, 89 railroads went bankrupt, and 18,000 businesses failed.

Caroline and Joseph had 13 children. Of the 13, 12 survived to adulthood. Of the nine oldest, eight never married. The one who did marry was childless. The three youngest did marry, but two of the three had just one child, and the third had three children. Of Caroline and Joseph's 12 children who survived to adulthood, they had just five children among them. However, their 12 children who lived to adulthood were remarkably long-lived. Eight of the 12 celebrated their 75th birthday, and five of those eight lived to be 80 or greater.

Joseph died February 12, 1898, at the age of 77. Caroline died October 21, 1909. She was 86. Both are buried in Dayton's Woodland Cemetery.



2. John H. John was born around 1826 in Washington, D.C. He moved to Ohio with his family soon after his birth. When John was 21 his father died and left the farm to him. The 1850 census recorded the value of the farm as $17,800.

Sometime around 1852 John married Mary Jane (surname unknown). They had seven children. At the time of the 1860 census, they were living in Osborn, Greene County, Ohio. John's occupation was "Clerk." His real estate was valued at $5,920, and his personal property was valued at $500. Ten years later, in the 1870 census, John's and his family were still living in Osburn. He had risen to the position of bookkeeper. His real estate was now valued at $20,000 and his personal estate valued at $11,000.

There is some question as to how many children Mary gave birth to. I have a record of eight children, but in the 1900 census Mary reports she has given birth to six children, four of which are still living, and in the 1920 census she reports she has given birth to seven children, four of which are still living. Further research is needed.

John died five years after the 1870 census, on July 24, 1875. He is buried in Dayton's Woodland Cemetery.

Mary remained in Osburn for the rest of her life. She died in 1920, and is also buried in Dayton's Woodland Cemetery, as are many of their children.

3. Oliver Hazard Perry. Oliver was born in June, 1827, soon after his family moved to Ohio. On September 5, 1850, he married Laura Mallissa Clark. They had ten children in all.

In 1861, at the age of 34, Oliver signed up with the Ohio Volunteer Infantry to fight in the Civil War. He spent 3 years fighting the war. He reportedly kept a detailed diary which I'm told can be found in the Wright State University Archives in Dayton. According to some family members, Oliver lost an eye during the war (the 1890 Census-Veterans Schedule shows Oliver suffered from a Hernia, but there is no mention of a missing eye). I'm told that when he returned from the war, his wife's family helped set them up on a homestead in Piqua, Ohio, however the census records don't support this. At the time of the 1870 federal census, Oliver and his wife were living in Harrison Township, Montgomery County, Ohio. Oliver was a farm hand. By the 1880 federal census, they had moved to Shelby County, Ohio (which is north of Miami County, where Piqua is located). They remained in Shelby County at least through 1900, but by the 1910 census they had moved to Piqua for their final years.

Of Oliver and Laura's ten children, at least 6 of them married, and a son was unmarried. The remaining three children were daughters who may have married, but I have not yet found records of their marriages. Many of Oliver's children remained in Shelby County.

Oliver died May 28, 1914, in Piqua, Ohio. Laura died a year later on September 10.

4. William Hale. William was born in March 1830, in Ohio. At the age of 27 he married Mary (surname unknown). In the 1860 and 1870 federal censuses, William was a farmer in Harrison Township, Montgomery County, Ohio. In the 1880 census, William had moved to a farm in Mad River Township, Montgomery County.

William and his wife had three children. One married and the other two remained single. According to the 1900 census, only two of their three children were still living.

William died in 1913 at the age of 83. I haven't found a record of Mary's death.


5. Benjamin Franklin. Benjamin was born July 2, 1833, in Dayton, Ohio. He died three weeks after his 21st birthday in 1854. In the 1850 census he was not living with his family, in fact his name was not found anywhere in the census. According to family records, Benjamin was referred to as Dr. Benjamin Franklin Protzman, so he may have been away attending medical school when the census was taken. He must have been much loved by the family for two of his brothers named sons after him.

6. Roger Stembel. Roger, named after his uncle Roger Nelson Stembel, was born about 1835 in Dayton. Sometime before the 1860 census, he married Charlotte Kiser. They lived in Dayton. Roger and Charlotte had two children.

Roger died November 27, 1865, at the age of 30. Charlotte died eight years later. It may be significant that Roger died young (30) and both of his children died at the age of 23.

7. Catherine Bell. Catherine was born about 1838 in Dayton. In 1862, she married George W. Getzendaner. Based on where their seven children were born it appears they moved to Missouri soon after they were married, but moved back to Ohio by the time their second child was born in 1867. After their last child was born in 1877, they moved to Jennings County, Indiana, where they were living at the time of the 1880 census.

Catherine died sometime between the 1880 and the 1900 census, because in the 1900 census George's marital status was reported as "Widowed." By that time he was living in Chase County, Nebraska, as were some of his children. Chase County was a sparsely populated county, adjacent to Colorado. Only 2,559 people were living in the entire county in 1900. George died in 1912, and is buried in Lake View Cemetery, Champion, Nebraska.

B. CAROLINE Stembel Smith. Caroline was born in 1808, in Middletown, Maryland, ten years after her sister Elizabeth. Sometime before 1820 her family moved to Georgetown, DC. She lived there from about age 10 to age 15. I'm not sure if Caroline went to school during those years, but I suspect she did. Caroline's family moved to Dayton, Ohio, in 1823. There she met and married Dr. Edwin Smith on November 27, 1827. Caroline was 19 years old, Edwin was 22. Edwin had attended Ohio University in Athens, Ohio, and had just graduated from the Medical College of Ohio in Cincinnati. He was in the process of setting up a medical practice in Dayton when they got married. At the time, Edwin's father, General W. M. Smith, was head of the Dayton Academy.
Edwin soon found that dispensing drugs as a druggist was more profitable than prescribing them and by 1833 he was no longer practicing medicine. He remained a druggist for the remainder of his life, except for the years when he served in the Ohio legislature (1838-1839), and served as clerk to the Court of Common Pleas (1840-1847).
Caroline and Edwin had eight children, none of whom lived to see their 35th birthday! Their ages at death were 27, 26, 1, 29, 15, 30, 1, and 34. Caroline, herself, only lived to be 36. She died on September 25, 1844, possibly giving birth to her eighth child who was born that same year (I don't know which day). That child, a daughter, was named Caroline.
Why did Caroline and all her children die so young? Was it due to a genetic disorder? This needs more research.
Edwin remarried and had two more children. At the time of the 1860 federal census, his occupation was listed as "Attorney At Law." The census reveals his real estate at the time was valued at $45,000, higher than all but one other entry in the census pages I examined. After his children were grown, Edwin moved to Cleveland with a son where he died in 1876. Both he and Caroline are buried in Dayton's Woodland Cemetery.
Caroline and Edwin Smith's eight children:
1. William H. William was born in 1829, at Dayton. He died unmarried on April 23, 1856, at the age of 27. He's buried in Woodland Cemetery.

2. Louisa. Louisa was born in 1831, at Dayton. She married Joseph C. Peirce around 1850. They were only married for a few years before Louisa died on October 20, 1857 at the age of 26. She is buried in Dayton's Woodland Cemetery. I see no evidence that they had any children. A Joseph C. Peirce appears in the 1860 and 1870 censuses, living in Dayton, without a wife. In the 1880 census there is a J.C. Peirce living in Dayton whose marital status is widower. All ages agree. He died in 1899 and is buried in Woodland Cemetery.

3. Roger Nelson. Roger was born in 1833, at Dayton. He died the next year on August 12, 1834. He is buried in Woodland Cemetery. Cemetery records list his name as Roger S. Smith.

4. Stephen F. Stephen was born in 1837, at Dayton. He died unmarried on September 5, 1866, at the age of 29. Dr. McLean, in a letter dated August 29, 1984, noted that his mother, Miranda Poffenberger Hefflebower, knew Stephen very well and often talked about him. He was known for his classical education and his flair for style. He is buried in Woodland Cemetery.

5. Lillie. Lillie was born in 1839, at Dayton. She died May 26, 1854, at the age of 15. She is buried in Woodland Cemetery.

6. Edwin B. Edwin was born about 1841. He died unmarried on May 18, 1871. He was about 30 years old. He is buried in Woodland Cemetery.

7. Theodore Stembel. Theodore was born in 1843, at Dayton. He died May 2, 1844. He is buried in Woodland Cemetery.

8. Caroline. Caroline was born in 1844, the same year her mother died. Considering the name given to her, it's possible that her mother died giving birth to her or that her mother was in very poor health and wasn't expected to live much longer. There is some evidence that she married, but it would have been after 1870 because she appears in the 1870 census as Carrie Smith, living with her father and step-mother (her personal estate was valued at $25,000). Caroline died September 7, 1878 at the age of 34. I don't know where she is buried.

C. ROGER NELSON Stembel. (Roger is the subject of a later chapter)
---
FOOTNOTES
---

1. Rhoderick, p.90.

2. In his letter to the Secretary of War, Henry - who served as a Lieutenant Colonel in the state militia in the War of 1812 - was asking for a commission as a Lieutenant Colonel in the U.S. Army. He listed his experience and qualifications for the position, including what may have been his earliest experience, serving in the Legion of the United States at the Battle of Fallen Timber (near present-day Toledo, Ohio) on August 20, 1794, under the command of Major General Anthony Wayne. Fallen Timber was a major victory for the United States over the Indians, and the British who supported them, in what was called the Northwest Indian War (or "Little Turtle's War").

Here is the portion of Henry's letter that leads me to believe he participated in Fallen Timbers: "...I can inform you of my former servitude in our injured country cause under the, I hope never forgotten Gen'l Wayne, and particularly the 20th day of August 1794 near the rapids of the Miamia of the Lake [the rapids on Miami River near Lake Erie] a Day that tries mens sols we faught as brave as League of old or the Tippecanoe Boys on the wayback."

I have no independent record verifying Henry's service in this battle, but have no reason to doubt it.

3. Letter from Dr. W. McLean dated September 14, 1984.

4. This comes from the Frederick County Indentured records, abstracted in "Western Maryland Genealogy," Vol 5, No 4, p 161: "The J[ustices of the] P[eace]...bind Jacob Herring, an orphan age 15y next 8 March, to Henry Stemple, hatter, to age 21." 21 December, 1802. Later there was an item printed in the Frederick-Town Herald newspaper dated January 6, 1807 (reprinted in "Western Maryland Newspaper Abstracts, Volume 3." p. 113), that Henry Stembel had offered a reward "for the return of his apprentice (hatter), Jacob Herring, age 19."

5. Letter from W. McLean dated November 14, 1984.

6. Ibid.

7. This comes from an article in the Frederick-Town Herald dated May 13, 1809 (reprinted in "Western Maryland Newspaper Abstracts, Volume 3." p.26)

8. This comes from an article in the Frederick-Town newspaper called Bartgis's Republican Gazette dated July 29, 1809 (reprinted in "Western Maryland Newspaper Abstracts, Volume 3." p.105)

9. This comes from an article in the Frederick-Town Herald dated January 13, 1810 (reprinted in "Western Maryland Newspaper Abstracts, Volume 3." p. 32).

10. History of Frederick County, Maryland. Vol. I, L. R. Titsworth & Co., 1910. p. 169.

11. History of Frederick County, Maryland. Vol. I, L. R. Titsworth & Co., 1910. p. 169.

12. According to Rhoderick's history of Middletown (p. 90), Henry and his family lived in his father's house on lot #8 in Middletown. Records show that Frederick sold lot #8 on April 6, 1818. Henry probably moved sometime before that date.

13. "The Diary of Jacob Engelbrecht, 1818 - 1878", edited by William R. Quinn. Historical Society of Frederick County, MD, Inc., Frederick, MD, 1976.

14. Henry's father, John, died in 1804. In his will, written June 29, 1804, he specified that funds from his estate should be used to send Henry (then aged 12), and his brother, John, to a "good English school for 18 months."

Return to the top of this page